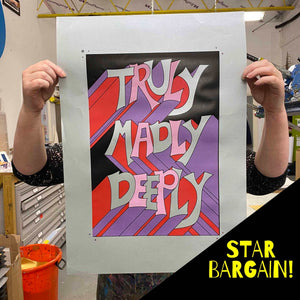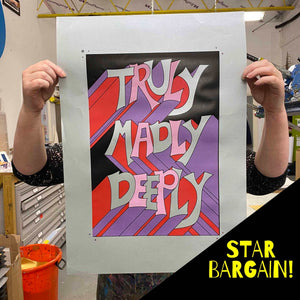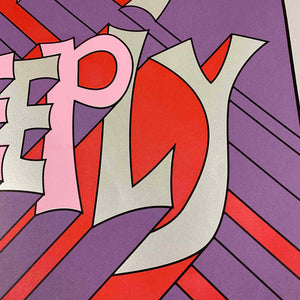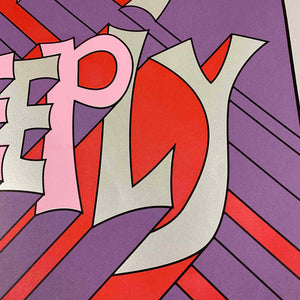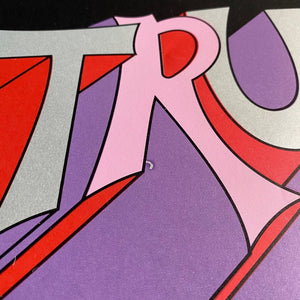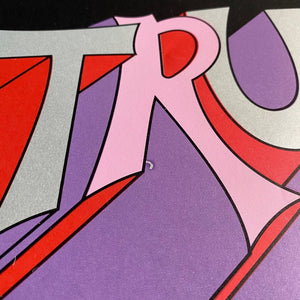 On Sale
Truly, Madly, Deeply (screen print - silver) - Super Seconds Sale Price!
This hand-pulled screen print captures the essence of the eponymous film and song! The colours and font evoke the crazy depths of emotion we all hope to experience at least once in a lifetime.
Any unique marks form part of the hand-finished process adding a touch of character to each artwork. Some of the remaining screen prints will have tiny smudges or marks (see images) - hence the sale price. There are only five left so grab one while you still can!

Four-layer unique screen print
Printed on frosted gold A2 Canford paper
Hand pulled
Size - paper size A2, Image size A3 
The A2 size shows the registration marks, which adds to the charm of the piece. But these could be removed if cut down to A3. The choice is yours.
Lead times are approx. 2-3 working days

All screen prints are despatched in a premium, heavyweight cardboard tube, using a trackable and signed-for delivery service.
All packaging is environmentally friendly.
For further information see Shipping.