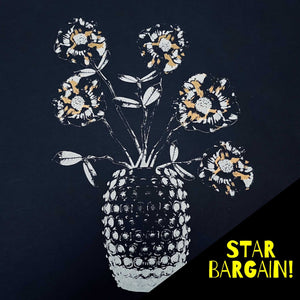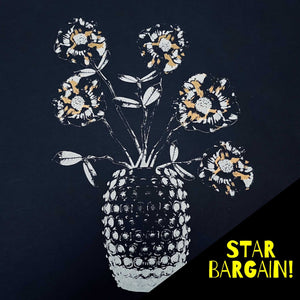 On Sale
Silence is Golden (screen print - white/gold) - Super Seconds Sale Price!
New Listing! Reduced Price for the Super Seconds Sale!
This was a test piece for a screen print edition I am working on. There are only six in total. The lines are very delicate (but still beautiful!) hence the price. See close ups for more detail.
This hand-pulled screen print shows hints of a golden era with these tranquil, burnished blooms. Would bring a sense of decadence, yet calm to any setting. 
Two-layer unique screen print
Printed on black A3 Canford paper
Hand pulled
Lead times are approx. 2-5 working days

All screen prints are despatched in a premium, heavyweight cardboard tube, using a trackable and signed-for delivery service.
All packaging is environmentally friendly.
For further information see Shipping.